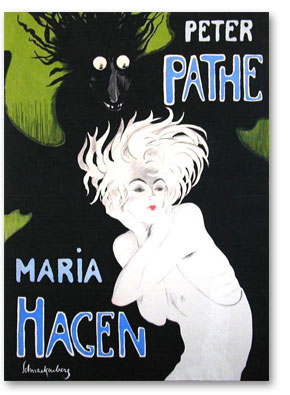 In 1895, a young German Jewish Doctor Hans Sachs started collecting the beautiful posters he would see plastered on buildings across Berlin. Noting that these printed posters were often created by the most heralded artists of the day, he began seeking out posters he could actually own; thus he began what today is considered the most serious collection of posters ever assembled. The following decades saw Dr Sachs' collection grow, ultimately resulting in his publishing the highly regarded magazine, Das Plakat. Unfortunately, on the fateful 1938 date that came to be known as Kristallnacht, Dr. Sachs was arrested, thrown into a concentration camp and, under the direction of Josef Goebbels, his poster collection confiscated by the Nazis.
Able to escape the camp, Dr. Sachs and his family fled to the US, where over the years, he was led to believe that his beloved collection had been destroyed during the war. It was therefore quite amazing when in 2005, Dr. Sachs' son discovered that his father's collection consisting of 4300 posters had indeed survived and been located in the vault of a Berlin Museum.
Following a lengthy court battle, the Sachs family was granted possession of the collection and commenced a search for the auction house that could present this most historic and important collection to the world. Beating out our far larger competitors, Guernsey's was selected for this significant consignment.
Recognizing that it could take three auctions to properly sell the collection, the first of the three auction catalogues was created, which included the complete, previously unpublished text of Dr. Sachs' amazing story. Guernsey's was most honored to offer the Hans Sachs Poster Collection at auction. Due to the sheer volume of the collection – over 4,000 posters – a series of 3 auctions has been planned. The first two sales – in January and November of 2013 – resulted in record-setting prices, with many posters destined for museums around the globe. A date for the third and final auction has not yet been set.